All About Flying Cockroaches in NYC
Our NYC exterminators can also help you with your pest control needs in Brooklyn, Queens and all 5 boroughs. 24 Hour Pest Control is a professional licensed pest control company in NYC that has been serving the New York City area for over 15 years.
Toll Free: (800) 456-8400 Direct: (646) 661-7415 Text: (347) 252-6595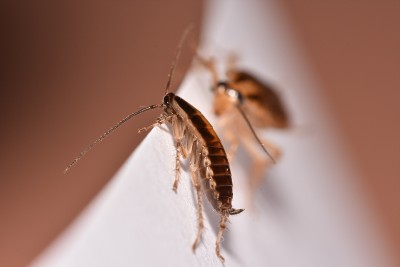 New York has a cockroach problem. So much so, that roaches are considered one of the downsides to living in this great area. There are many different species of cockroaches as well, some as small as an ant, others that sometimes seem as large as a small mouse.
When we typically think of roaches, we envision these pests that scurry across the ground and hide when the light is turned on. So it's sometimes surprising, if not terrifying, when you see a cockroach fly through the air. What kind of cockroach is that, and what does it mean that it flies?
What is a Flying Cockroach?
The truth is that most cockroaches have wings and many of them can fly. The problem is that cockroaches are typically very bad at it. Though there are some cockroach species that are excellent flyers, including a few that we have here in NYC like the Pennsylvania Wood Cockroach, most are unable to fly for very long or very far.
But just because they're bad at flying doesn't mean that they won't fly. At any point, you may see one of these roaches try to fly for a short distance. Cockroaches, even the ones that are bad at flying, are also good gliders – many of them glide into properties from outside when a window is open, or when they
need to jump down from a high point into a lower one.
Should You Worry About Flying Roaches?
The good news is that flying roaches are, essentially, no different from any other type of cockroach. The bad news is that roaches themselves are a problematic pest. While most people worry about how "gross" it is to live with cockroaches, the reality is that roaches themselves can actually be a safety hazard:
They shed skin, oils, and other remnants that may lead to allergies or asthma attacks.
They get bacteria on their skin that they spread around food.
They may be carriers of different pathogens, including cholera and plague.
Coming into contact with a cockroach is unlikely to be dangerous, but cockroaches are survivors and rapid breeders, which means that it rarely stays a single cockroach for long.
If you've seen flying cockroaches in New York City, or you'd simply like your home protected from roaches and other pests, be sure to contact 24 Hour Pest Control NYC today for 24 hour cockroach extermination and prevention.